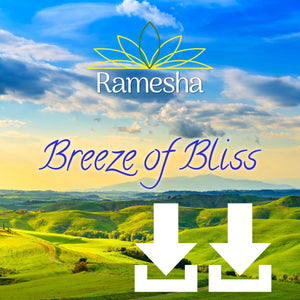 'BREEZE OF BLISS' is an album of chants by Ramesha!
The chants on this recording will help you calm your mind, open your heart, and establish a devotional connection with the Divine.
"I've been chanting for over twenty years. These chants have been a constant source of inspiration and inner strength through many life challenges. I hope they give you as much joy and inner peace as I felt recording them." --Ramesha
Devotional chanting is an ancient technique for focusing and uplifting the mind and soul into higher states of consciousness. Paramhansa Yogananda, great Yoga master and author of the spiritual classic Autobiography of a Yogi, writes, "Chanting is half the battle." He also wrote, "Sound is the most powerful force in the universe." 
TRACKLISTING:

Dawn Chant

Blue Lotus Feet

Ever-New Joy

What Is This Life?

O Thou King of the Infinite

In the Valley of Sorrow

You Fill My Heart With Music

They Have Heard Thy Name

Fill Me With the Sound of AUM

I Am the Sky

Receive Me On Thy Lap
CREDITS:
Ramesha Nani - Voice, harmonium, guitar

Bhagavati Nani - Flute, background vocals

Lewis Howard - Tablas

Christian Bottaro-Salisbury - Tamboura

Recorded and co-produced by Christian Bottaro-Salisbury

Mixed and mastered by Mike Georgia

Surya Crisman - 

Graphic Artist & Designer

Barbara Bingham - Photography