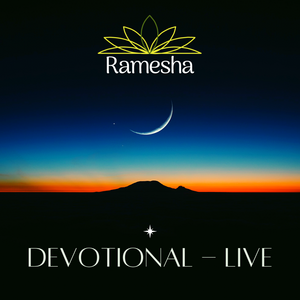 'DEVOTIONAL' is a LIVE recording of songs performed by Ramesha!

The music on this recording will help you calm your mind, open your heart, and establish a devotional connection with the Divine.
Devotional features music written by Paramhansa Yogananda and Swami Kriyananda, a direct disciple of Yogananda. 
This is a selection of six songs that I recorded live throughout 2021 during my weekly Facebook live sessions. I hope you enjoy them!
TRACKLISTING:

Come Out of the Darkness, Mother!

Home Is a Green Hill

Light the Lamp of Thy Love

Deliver Us From Delusion

Door of My Heart

They Have Heard Thy Name

Ramesha Nani - Voice, harmonium, guitar
Available in MP3 format only
 Sample: