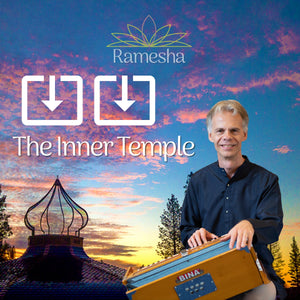 'THE INNER TEMPLE' is a much anticipated album of chants and devotional songs by Ramesha!

 

This music will help you calm your mind, open your heart, and establish a devotional connection with the Divine.
The Inner Temple features devotional songs and chants written by Paramhansa Yogananda and Swami Kriyananda, a direct disciple of Yogananda.
TRACKLISTING:

I Will Always Think of Thee **
O God Beautiful *
I Live Without Fear **
Door of My Heart *
Saint Teresa of Avila's Admonition **
Through Many Lives **
Psalm of David **
Lord, I Am Thine **
Divine Love Sorrows *
From This Sleep, Lord *
I Give Thee My Soul Call *
Cloisters **
God! God! God! †
* by P. Yogananda / ** by S. Kriyananda /  † by P. Yogananda and S. Kriyananda

CREDITS:
Ramesha Nani - Voice, harmonium, guitar, violin
Bhagavati Nani - Flute, background vocals
Prashad Wang - Harp, keyboard, background vocals
Lewis Howard - Tablas
Satyana Hall - Background vocals
Christian Bottaro-Salisbury - Tamboura
Recorded and mixed by Christian Bottaro-Salisbury
Produced by Ramesha Nani and Christian Bottaro-Salisbury
Mastered by Mike Georgia
👉 ** This is the SUPER download, which means you'll get formats that are important to your listening experience! You will not be disappointed with the uplifitng atmosphere this music will cast in your home, car, and listening devices!
Comes in WAV and MP3 formats!

Includes artwork for the album cover & singles

Comes with the digital booklet of lyrics

Makes a wonderful gift for yourself or someone you know!